For those that do not know me I am a relative new comer to carting. I purchased this golf cart in August 06 and did a few things but enjoyed the buggie for the rest of the year. As winter approached I began a major up-grade to get my project to where I wanted to be. The following photos detail this process....
My buggie is a 01 Club Car 36 volt v-glide golf cart. I had previously installed lights, wheel covers, a windshield, glove box doors, strobes and stripes and several other items.
I was now ready to do a torque & speed upgrade. My goal was to increase run time by replacing the resistor coils. In addition I wanted to add or upgrade some lighting and install a new dash. This photo and the one above were taken about a week before Christmas and the last before the project started.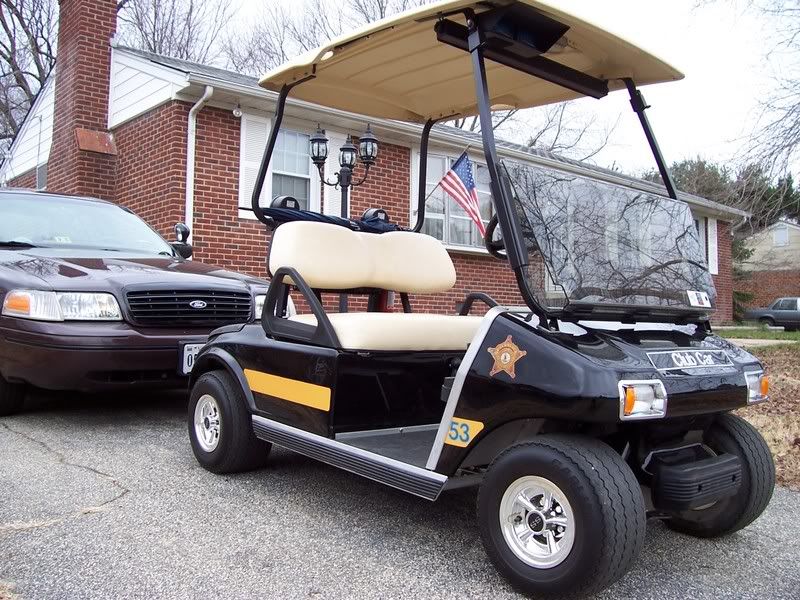 Inside the shop and ready to begin. The buggie was placed on jack stands and dis-assembly was begun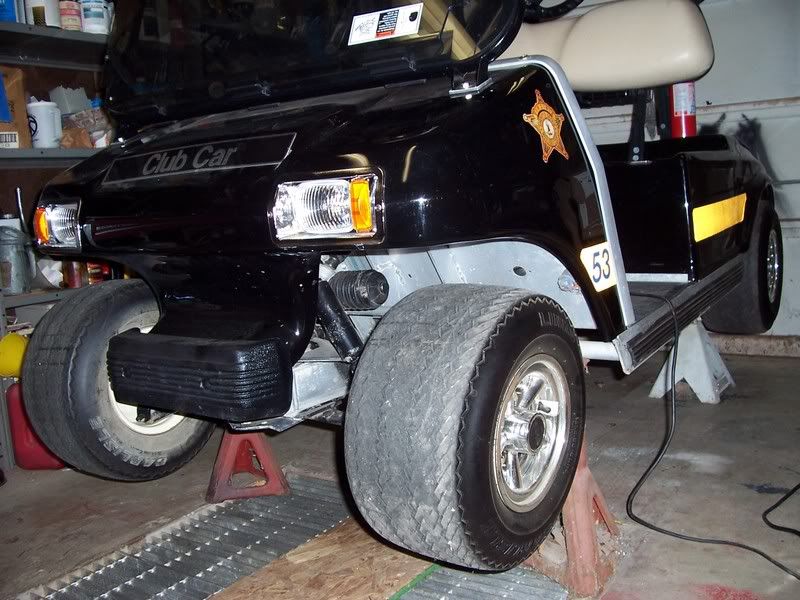 Here the front of the body has been removed along with the glove box doors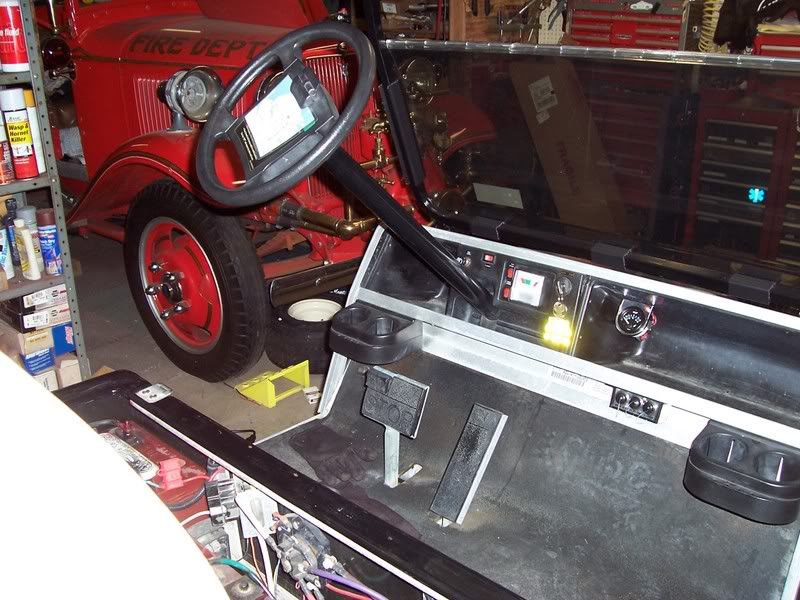 The key switch, volt meters and light switches were removed. The key switch will be replaced with a automotive switch. This will provide added security and allow a switched 12 volt accy circuit.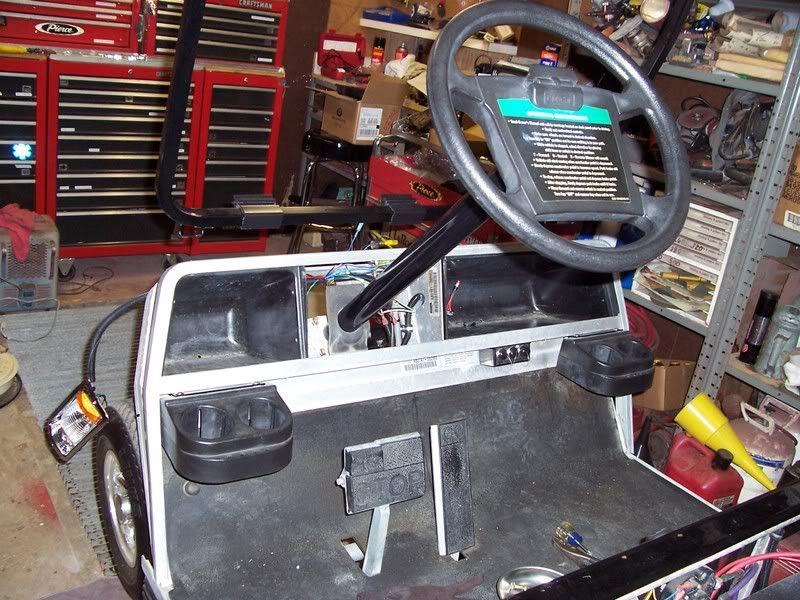 The new carbon fiber dash is taped in place so that the mounting holes can be marked and drilled. There is very little room for error. The factory cup holders were also re-located rearward to clear the dash.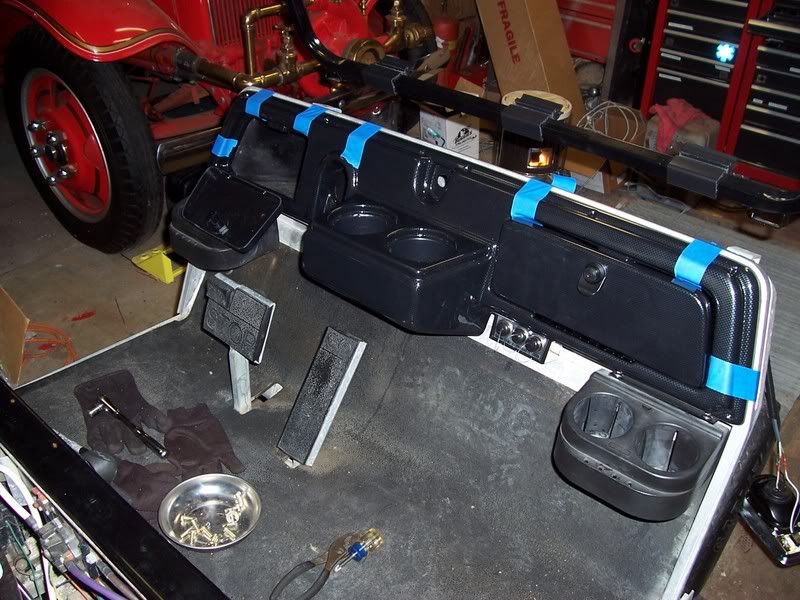 The new dash is installed using stainless steel screws with locktight. New switches for the headlights, blue LEDs along with the key switch are mounted. Also installed are volt gauges for both the 36 volt and 12 volt systems.
Viewing the back of the dash from the front of the cart. All of the wiring was sized to carry 125% of the intended load. All wiring was installed using heat sealed crimp connectors, enclosed in wire-loom for protection and secured using stainless steel wire clamps. Also installed is the horn and (gold item next to steering joint) a electronic flasher for the signal lights mounted in a flasher socket.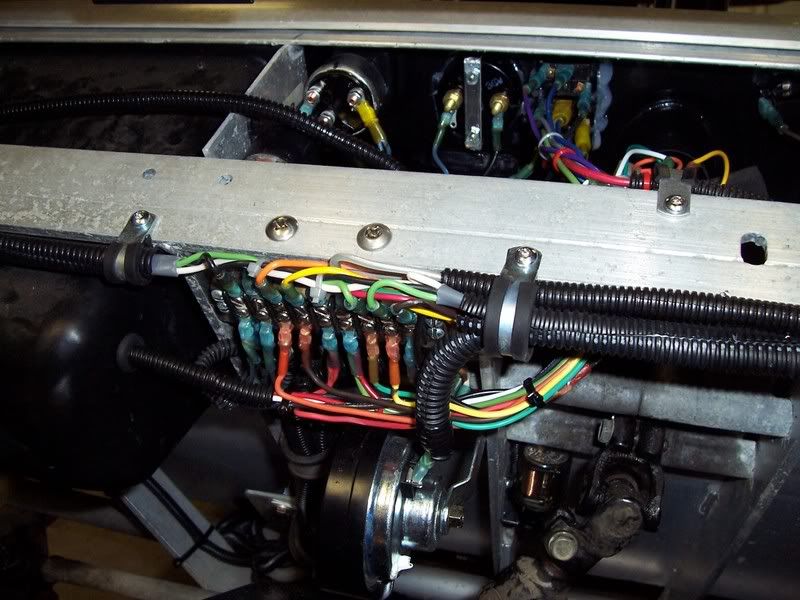 The new dash is fairly complete here. I also added signal lights. The plastic cover for the signal wires is UGLY and is presently being changed. Several people offered suggestions for better ways to hide the wires. Hopefully they will like what I came up with.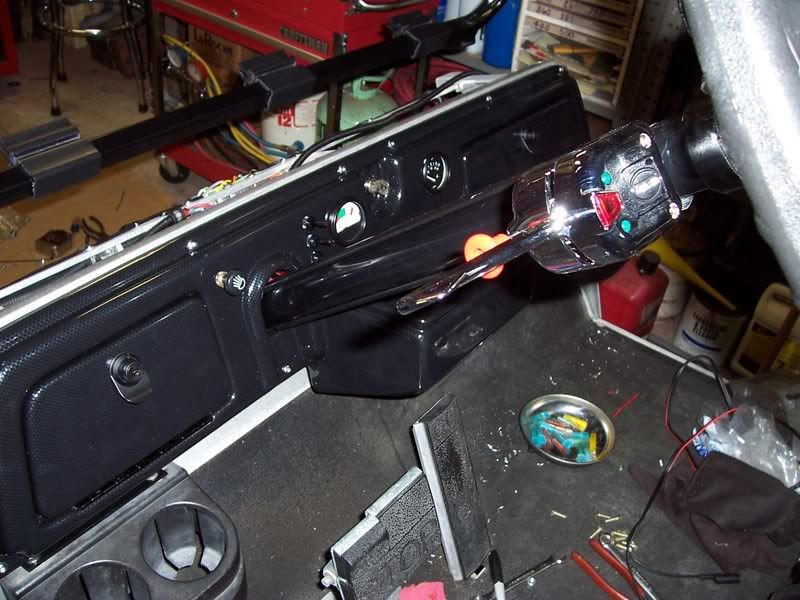 A bracket was fabricated to mount the brake light switch. The power for the brake lights is switched by the key thus allowing the brake lights to be turned off when the buggie is parked with the hill holder on. The tie-wraps securing the loom to the cross bar have been replaced with SS clamps since the photo was taken
Due to the number of photos this post will be continued in page two, Thanks